SAHAR LASH | Artistry
London
Sahar's Makeup & Beauty Blog
 Depending on the occasion most people want to make sure their hair and makeup is applied in a way that lasts the whole day/evening and not worry about how it will look in pictures or under certain lighting.   There are many occasions and events that a person may have their makeup professionally applied but why is it important to have someone who has the knowledge and expertise apply it for you?   
 Firstly I want to talk about the skin.  Many people cannot identify their skins colour/undertone.  It is very important to get this right in order for your skin to have a natural colour finish and as if you are not wearing foundation at all. The colour of the foundation must match your skins undertone on your face and neck.  If the incorrect shade or undertone is chosen then this can result in very unflattering photographs.   It is also important to recognize your skin type as this will determine what sort of skin care you must be using and what prep products should be used underneath your makeup.  Once the correct skin care has been used, you can them determine what kind of finish you are after in terms of coverage and whether you'd like a dewy or matte finish.  (I would generally stick with a matte finish if you were to be photographed.) For instance, if your skin type is fairly oily, you may opt for a matt finish, as you will not want to look too oily in your photographs.  If your skin type is fairly dry, you may want a slightly dewier finish but a powder must be applied to set and hold the foundation and also prevent your skin from looking too shiny.   
Why is colour and lighting important?   It is very important that your makeup artist knows what occasion you are having your makeup applied for.  This is because certain colours/tones will look completely different under different lighting.  Some colours are very flattering in daylight and others are more flattering for evening events (where the lighting in most venues is warmer.)   Makeup should ideally be applied under natural daylight, but as we only get a certain amount of hours daylight in a day, the alternative would be to use a daylight lamp and avoid any shadows that will give an uneven finish.   Your makeup artist should also be well educated when it comes to colour theory, as this is a makeup artist's most powerful tool in creating a masterpiece.  Using colour theory will not only help the artist select the correct eye/cheek/lip colours but will also bring out certain features that you would like to enhance.  For example, if you have green eyes, then purple eye shadows or even lip colours will make your green eyes pop.  This is because green and purple are complimentary colours.     
What brands should a makeup artist be using? This various from artist to artist.  There are many brands out there with great quality products ie MAC Cosmetics, Bobbi Brown, Illamasqua, Nars, Laura Mercier, Armani etc My list literally could go on.  I have particular favorites from different brands.  This is all personal opinion and choice.  There are no particular rules when it comes to the products.  An eye pencil could be used as a lip pencil and so on.  (There will however be some products that won't be recommended for certain areas of the face.)   On the other hand there are also brands that do not have particularly great products, such as eye shadows etc that are not very pigmented resulting in wishy washy eye shadow or products that simply don't last.  I'm not going to name and shame, but you get the picture.    Speaking of products that last, your makeup artist should also know of and own products that will keep your makeup lasting all day/evening.  What he/she uses in their kit is very important.  There will be certain things that an artist cannot avoid, ie if you have very oily skin and start to shine then you would need to carry a blot powder with you and lets face it lip colours just don't stay as long as we'd like them too either, so it would be a good idea to carry a lip colour with you.  However, there are great primers available to enhance the longevity of eye makeup and skin products and to be honest this is what my clients are concerned with the most.  
Blending and Application   This is my favorite part! Blend, blend and more blending… 
 Blending is key when creating a look.  Nobody wants harsh lines and colours slapped on their faces for a special occasion especially not a bride.  Less is always more when applying makeup.  You don't want to go straight in with harsh or dark colours.  The best way is to build and build, to create a softly blended eye no matter how soft or dark and smokey you want to go.  This applies to all different occasions.  When applying any colour, whether it is lip colour, eye shadow or blusher, the best way to apply any of these products is to always start with a little on your brush, tapping off the excess and building slowly.  Your Makeup Artist will be a pro at blending, he/she will know how to enhance your features by contouring and blending products to bring out the features you wish or mask the features you don't.   
 In conclusion, if you have an important occasion to attend and want your makeup to look immaculate it is best you seek out a good professional makeup artist who can take control and give you a flawless and beautiful look.  It is also quite relaxing and stress free knowing that someone else knows exactly what to do whilst you sit back and get pampered.   
 Thank you for reading,   Have a great day x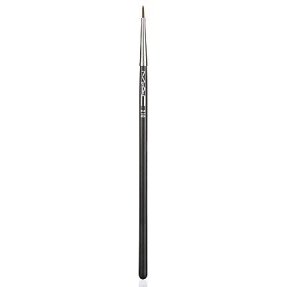 One thing I get asked all of the time is "How do you get your eyeliner so straight and sharp?" So I thought this would be a great tip to blog about.
Most people tend to use liquid eyeliner or those less confident use a pencil to create a feline flick.  However, I personally use neither.  I remember when I first started experimenting with eyeliner, I couldn't for the life of me get it on and looking good.  I soon learnt that I wasn't using the best type of liner to create the look I wanted.  I soon discovered gel eyeliner.  Now ladies, this is my number 1 recommended product.   It is so easy to work with and lasts for so long providing you keep the lid securely tightened so it doesn't dry out.  I like to use MAC's Fluidline Blacktrack however there are loads more out there on the market. 
THE BRUSH:
To apply the liner, I like to use MAC's 210 brush (see in picture) as its so fine and easy to work with.  I find that most artists recommend and angled brush (MAC's 266 brush) however, I find it quite difficult to use on myself on the inner part of my eyelid.  Also with the 210 brush, you can get a really fine line and build up the thickness as you go along.
I normally dip my brush into the gel and pop some on the back of my hand as the gel can dry out if you leave the lid off for too long.  It also helps, to remove excess product of the brush and will distribute the gel evenly throughout the brush hairs.
THE EYE LINE:
I then look down into a mirror (this will stretch the eyelid and give a better view of where you are going to apply the liner)  and I find it helps to dot along the lash line creating a dot to dot. Starting at the inner corner of the eye, make strokes from each dot to the other.  You do not have to do your whole eye line with one stroke.  Doing so, I find creates a wonky line.  Using a 210 brush will give you such a thin line that if you do go a bit wonky, you can just go over it, creating more structure to the line. 
THE FLICK:
Once you are happy with your eye line, then go onto your feline flick. I also use the same concept with my flick. I firstly make a tiny dot of where I want my flick to end which also helps me decide the direction of it.  This helps to guide you so that both sides look even.  Generally, you want the flick to go in the direction from the corner of your outer eye to the end of your eyebrow. This will create a natural and flattering shape to your eyes.
Remember to wash your brush with a drop of shampoo and warm water and leave flat to dry. Not washing will wear the hairs and damage the brush.  You will also get a much more precise line with a fresh brush.
Good luck guys and let me know how you get along,

Sahar

www.belladonnabeauty.co.uk
/